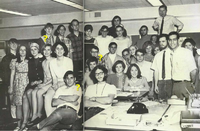 Allan Mann has sent this photo from 1967*. Some of the staffers depicted remain unidentified (we assume that the carefully prepared photo credit was lost).
Can you help ID the ? people? Sign in to post your replies as comments. Click the image for a larger view. The photo caption is:
Standing, first row (back) (from left) ?, Chuck Benrubi, John Parker, Phyllis Dubrow, Allan Mann, Martin Rips, Roz Davis, Buddy Epstein, Advisor Jim Howard. Second row: Jerry Morris, Charlotte Vrooman, Donna Grace, Stephana Roth, Evelyn Renold, ?, Shelley Presser, Larry Rubin (glasses, peaking out from behind Pam Sellers, Nick Brestoff, Suzanne Bellamy, Jeff Perlman (standing, behind) Judi Bronstein, Brian Weiss, Larry May, Pam Gentry. Third row, right: Tony McKay, Robin Burke, Tina Nides. Front row: sports guy? Mike Abbey.
This would also be a good time to contact all these folks and suggest they join us at DB Alumni News.
* To clarify, Allan sent the photo in 2007, but it's 40 years old. Confused, so are we; it's some sort of time-warp thing. Luckily we had Star Trek back then.